For the last decade, Facebook Ads have been one of the most popular and effective ways to reach out to customers.
However, since the iOS14 apocalypse, getting meaningful and actionable insights from Ads Manager metrics alone has proven more and more difficult, especially from Apple devices.
Here at Dash Activate Online, we're always on the lookout for new and innovative solutions for our clients. That's why in early 2021 we partnered with the tech platform Oribi to help solve some of the data and attribution challenges that came along with iOS14. Unfortunately, Oribi was acquired by LinkedIn just 12 months after launch which left our team and clients out in the cold when it came to 3rd party data and attribution.

So back to the drawing board we went because without the right tools, it can be difficult to know whether or not your Facebook Ads are actually working.
After weeks of interviews, meetings, and demos we discovered the perfect solution to help businesses make better decisions with their advertising dollars… Introducing our new favorite tool: TripleWhale!

What is TripleWhale and how does it work?
TripleWhale is a Facebook Ads attribution and analytics platform that brings all data sources into one place.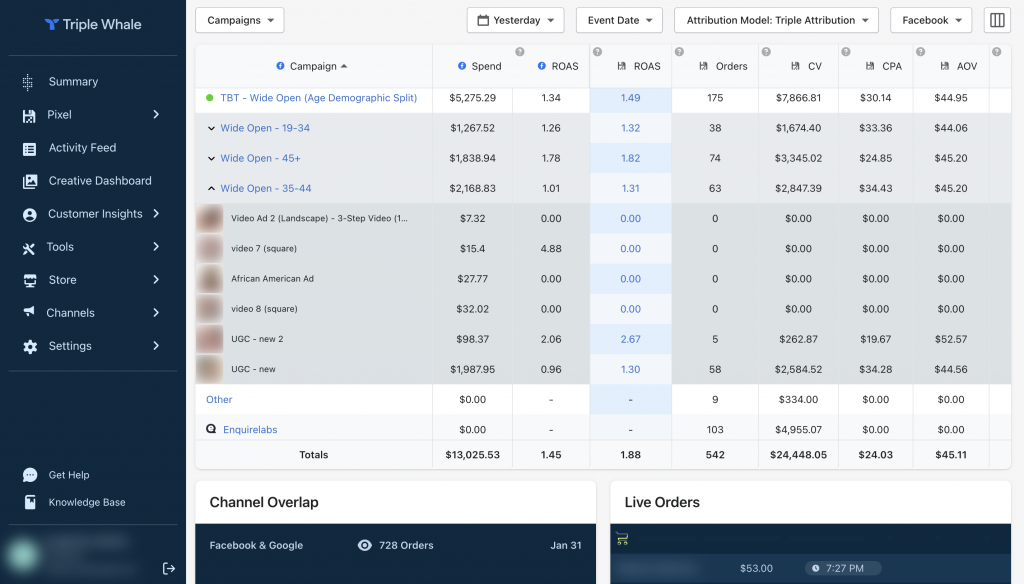 Combining and blending not only data directly from Facebook, but adding all of your other channels including:
Shopify
Snapchat
TikTok
Google Ads
Pinterest
Organic
Influencers
Email/SMS
You can then view all of these various touchpoints that your customers passed through before completing their purchase in order to optimize sales funnels, offers, bundles and creatives.

TripleWhale works using a combination of tracking methods, firstly it's able to visualize your Shopify data by integrating via a dedicated app. This app also controls the serverside integration allowing data to pass seamlessly from Shopify through to TripleWhale.
Additionally, TripleWhale also has its own unique pixel which is added to your store to track audiences independently of your Facebook pixel.
Lastly, the secret sauce that tracks your customers throughout their journey is the custom UTM codes generated by the TripleWhale platform.
How Facebook Ads can benefit from using Triple Whale
Facebook Ads can benefit from using Triple Whale in a few ways. By integrating TripleWhale into your store, you can better visualize how customers are moving through your website.
Detailed views over product flow, return rates, and how users parse through the information found across the pages of your website can allow for incredible optimization of your messaging, destinations, and landing pages to drive maximum conversions.
TripleWhale's seamless UTM integration also gives you insights into how users interact with your marketing across multiple channels. If you're unsure how much Google Ads, Snapchat, Influencers and Email lifts your Facebook Ad performance, TripleWhale will solve that problem for you!
If you want to learn more about TripleWhale's product journey mapping, check out this in-depth video on their blog.
The other benefit of TripleWhale is that it gives you oversight on your Facebook metrics from within the dashboard, allowing you to not only review your Ads Manager stats but also overlay the TripleWhale Pixel data to determine where there may be under, over, or inconsistent reporting.
How to get started with TripleWhale
If you're looking to get started with Triple Whale, the first step is to create an account.
Set up is a breeze with a simple app install on Shopify, pixel set up, and UTM swap on your live ads.
Once you're logged in to the platform, you'll be able to add all of your data sources – including Facebook Ads by logging into each of the accounts via the integrations section. From there, Triple Whale will begin displaying all of your favourite metrics on a neat dashboard allowing for easy review and insights.
If you have questions or need help setting up your dashboard, don't hesitate to reach out to our team. Our knowledgable marketing experts have helped take dozens and dozens of stores from launch to success, book your free strategy call here to get started!