Creating a high-converting Facebook video for your business can be a daunting task. But with the right tools and tips, it's definitely doable.
In this article, you'll learn how to create a video that is both high quality and attention-grabbing, as well as properly optimized for Facebook ads. You'll also learn how to include a strong call to action in your video.
Follow these tips, and you're sure to create a video that will help you reach your business goals.
What is a video ad and why should I care
Video ads are a great way to promote your business on Facebook. They allow you to capture the attention of your target audience and promote your products or services in a visually appealing way. Unlike an image, video offers you the extra dimension of time and movement in order to demonstrate, showcase and explain your product or service. This is what makes video ads one of the most popular types of advertisements on Facebook.
Although a great marketing tool, it can be hard to create a high-quality video ad. In order for your audience to click "play" they need to be intrigued enough by your thumbnail image and title just to grab their attention.
Next, people then need to be "hooked" by the first 3-5 seconds of your video otherwise they will click away or continue scrolling. Finally, once they've watched more than 20-25 seconds of the video, people need to be convinced that your product or service is worth buying or learning more about in order to retain their attention.
Considering all of these factors in advance is vital to creating a successful Facebook video…
How to create an optimized, high converting Facebook video
When it comes to creating a Facebook video ad, it's important to remember that not all videos are created equal. Your video needs to be high quality, and it needs to capture the attention of your target audience. You'll also need to make sure your video is properly optimized for Facebook ads, and that it includes a strong call to action.
First, let's look at your video thumbnail and description. This is what people will see in their news feeds when they scroll through, and it needs to grab the attention of your target audience. Keep in mind that this image will need to stand out amongst all of the other videos in a user's news feed. When it comes to the actual content, in today's age of high-quality camera phones, most people are used to seeing a great video produced by smartphones. If you're going to be shooting the video yourself and you don't have access to a later model smartphone, consider investing in a DSLR camera and tripod instead. Your audience will appreciate a professionally shot video, and it will make your video stand out amongst the other ones on Facebook.
Next, let's look at your first 5 seconds…
This is arguably the most important part of your video as this is what decides whether or not people click play on your ad. The first few moments of a video are crucial to the success of your campaign, because people love to make snap judgments about whether or not they want to watch further. This is known as a "pattern interrupt" in the marketing world. The pattern interrupt in your video needs to be a "hook," a kind of scenario that draws people's attention and compels them to watch further for more information.
The Facebook community is constantly flooded with great content, so make sure you spend time considering what potential pattern interrupts will help you stand out. These can be bold colors, interesting slogans, unusual visuals, or anything that will get Facebook users to stop scrolling and click the play button instead.
What sizes and formats do you need to think about?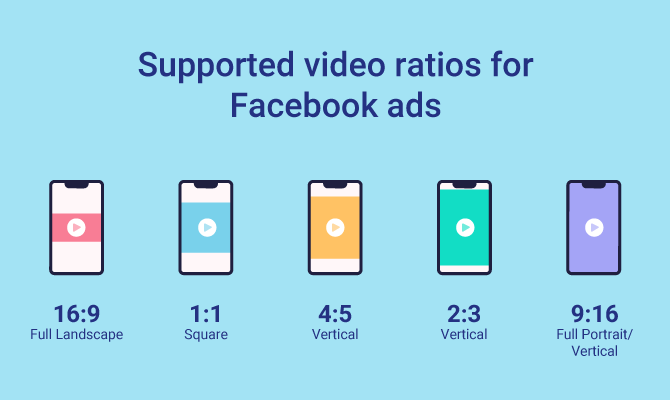 When it comes to Facebook video ads, there are a few different sizes and formats you need to be aware of. The first thing you need to decide is whether you want to create a vertical (9×16 or 4×5) or horizontal video (16×9 or 1×1). Facebook's new layout allows advertisers to shoot videos in vertical format, which is perfect for mobile users. In February 2022, Mark Zuckerberg announced an extra focus on Reels and Stories in order to compete with the ever-increasing competition from TikTok, so expect more inventory in these vertical formats to open up in 2022!
However, if you're targeting desktop users, you may want to stick with a horizontal video instead.
The importance of a strong call to action in every video you make
When it comes to Facebook videos, a strong call to action is essential. Without a clear CTA, your viewers may not know what you want them to do next. Whether you want them to visit your website, sign up for your mailing list or buy your product, make sure your CTA is clear and easy to understand. You can also use Facebook's built-in "Canvas" feature to create a more interactive experience for your viewers. This allows you to create a custom page that contains all of the information about your product or service. Viewers can then click on different elements of the page to learn more about what you have to offer.
In Conclusion
Facebook video ads are a great way to reach your target audience. Video Ads allow you to capture the attention of your viewer and keep them interested in what you have to say!
When it comes time for Facebook Video Ad creation, make sure you do everything right to create an optimized, high converting Facebook video by following these guidelines above.
Make sure to consider the first 3-5 seconds or the "pattern interrupt" and lead your potential customers with a strong call to action at the end of every video so viewers know where they should go next on Facebook or to your eCommerce store.
If all this sounds overwhelming don't worry that's what we're here for! Contact us today to discuss your next video project and the best way to launch your next video ad campaign on Facebook and Instagram!